Careers
Careers » Steamships People » Cynthia Chapman
Cynthia Chapman
Fire Risk Manager, Pacific Palms Property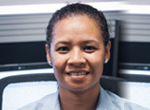 Cynthia Chapman is our Fire Risk Manager for Pacific Palms Property who is a qualified architect and also the designer of the traditionally inspired dress (TID) that Miss PNG, Leoshina Mercy Kariha wore to the regional pageant where she was crowned 2018 Miss Pacific Islands.
Cynthia has also designed a few of the dresses that Miss PNG wore when vying for the regional crown. Talk about PPP employee by day and designer by night. Amazing!
During the Miss Pacific Islands Pagent (MPIP) committee visit to PPP Head Office in Port Moresby, Miss Pacific Islands also presented a Certificate of Appreciation to Cynthia for her outstanding design which was the winning dress for the traditionally inspired gown category at the regional pageant last year.
Miss Pacific Islands thanked everyone for their support and PPP for being one of the sponsors this year in the MPIP. She looks forward to her next visit when all the Pacific Island Queens arrive in the country in November.
Steamships Trading Company Limited
Part Of Allotment 31, Section 140, Walter Bay Industrial Centre Building 1, Units 1-4, Matirogo, Port Moresby, National Capital District, Papua New Guinea
P.O. Box 1
Port Moresby
National Capital District
Papua New Guinea
Tel

(675) 3137400