Leadership
About Us » Board Of Directors » Peter Aitsi
Peter Aitsi
Director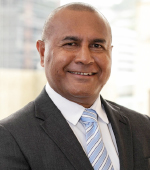 Peter Aitsi is a senior business leader with 30 years of experience having led and managed a number of high-profile PNG companies and organisations.
He has turned his focus to assisting his wife Teresa manage and grow their family business – TrickyWorx, a company specialising in property services and landscaping. Peter has had a long-standing involvement with a number of important community organisations such as Transparency International PNG.
He was formerly the President of the Media Council of PNG, founding president of the Badili Club of PNG, previously Deputy Chair of City Mission and is one of the founding directors of Leadership PNG. Recently completing his term as Group Chief Executive Officer of Credit Corporation Ltd the region's largest finance company, serving from April 2018 to 2021. Prior to joining Credit Corp, he was PNG Country Manager for Australian gold mining company Newcrest Mining, a role he held for 7 years.
Other notable board roles, he has served on the Advisory Board of Coral Sea Hotels Group (a subsidiary of Steamships Trading Company) and in October 2019 was appointed Chairman of Kumul Consolidated Holdings (PNG's holding entity for all State Owned Enterprise) resigning in late 2020.
He is currently also Chairman of media company PNGFM Ltd; an organization he has had a long standing involvement. He is a member of the Australian Institute of Company Directors and is a professional member of the PNG Institute of Directors (PNGID), receiving the PNGID Male Director of the Year award in 2018. In 2004 he was accorded the Queens award as a Member of the British Empire (MBE) in recognition for his contributions to the development of PNG media and his long standing voluntary service to various community organizations.
Steamships Trading Company Limited
Part Of Allotment 31, Section 140, Walter Bay Industrial Centre Building 1, Units 1-4, Matirogo, Port Moresby, National Capital District, Papua New Guinea
P.O. Box 1
Port Moresby
National Capital District
Papua New Guinea
Tel

(675) 3137400