Media
Media » News In Brief
News In Brief
16 February 2022 ↓
Steamships Returns to Bougainville
Nerakaa oto'oto'ke meriaing (New Spirit, New Deal, New Bougainville)
On Wednesday 16 February 2022 Managing Director Rupert Bray and a delegation from Steamships attended a ceremony in the North Nasioi District to mark the repossession of state lease titles. The ceremony was hosted by the President of the Autonomous Bougainville Government (ABG) and his Ministers to mark the first steps in economic rehabilitation through welcoming back former lease holders in Bougainville, beginning with Steamships.


IMAGE: (LR) ABG Minister for Lands, Physical Planning, Environment and Conservation, Hon. Robert Hamal Sawa, MBHOR; President of the Autonomous Government of Bougainville, Hon. Ishmael Toroama, MBHOR, Member for North Nasioi Constituency & ABG Minister for Finance & Treasury Hon. Mathias Salas, MBHOR, Managing Director Steamships Limited, Rupert Bray, before the ceremony.
Steamships has a long history in Bougainville. With a presence in Kieta before the crisis through hospitality, retail and shipping and during the crisis through our shipping and stevedoring business. Nikana Stevedores is a 50/50 joint venture between Steamships and local Kieta landowners and employs over 75 Bougainvilleans contributing millions of Kina to the local economy every year.
The occasion was significant because Steamships is the first businesses to return to Bougainville following the mandated processes set by the ABG. The full drawdown of all powers and functions for Land Administration in late 2021 from the National Government to the ABG has allowed for Bougainville to fully administer its land titles and provided a way forward for Steamships in Bougainville.
The Steamships project team, led by Group Legal Counsel, Deborah Onga, and on-ground lead consultant Moira Eka, then commenced discussions with the ABG through the President's Office, the ABG Lands Minister, and the District office and traditional land custodians in North Nasioi, Toniva and Kieta to access and map out existing land assets and a viable plan of rehabilitation.


IMAGE: (LR) Hon. Robert Hamal Sawa, Rupert Bray, Hon. Mathias Salas, President Ishmael Toroama
Recognition must be given to the traditional land custodians in the Kieta District who have respected the rule of law and leaseholder rights. Their mindset was that they were caretakers during and post-crisis. When the subject of repossession and rehabilitation was brought to their chiefs and representatives, they were happy to open communication lines and become active participants in the way forward for their district and set a precedent for the rest of Bougainville. Consultations and open discussions with all stakeholders culminated in a symbolic customary ceremony on Wednesday 16 February attended by the President of the AROB, members of his cabinet, chiefs, and community of North Nasioi, and Steamships.
Managing Director, Rupert Bray, addressed the ABG and the people of North Nasioi, saying that Steamships is committed to the revitalisation of the economy, to help the people of this district and Bougainville realise their economic potential and aspirations of self-sustainability. He expressed his delight in being able to return to Bougainville as a developer and thanked the President and the people of Bougainville for welcoming Steamships so sincerely.
Mr Bray acknowledged the Project Team and the ABG Lands Minister Hon. Hamal Sawa and his team for their efforts thus far, as any form of reconciliation and rehabilitation and recovery takes many different stakeholders to participate in the journey. He reassured President Toroama that Steamships takes its responsibilities seriously and acknowledged that this is the first step in a long journey to realising a vibrant economy.


IMAGE: (LR) President of the Autonomous Government of Bougainville, Hon. Ishmael Toroama, MBHOR & Managing Director Steamships Limited, Rupert Bray in conversation after the planting of coconut trees
President Ishmael Toroama who hosted the ceremony expressed his gratitude to Steamships and welcomed the move to rehabilitate existing leases. "Your confidence in my government gives confidence to other would-be investors and companies who are interested in conducting business on Bougainville," President Toroama said.
"It signifies that Bougainville has returned to normalcy and we have a conducive business environment that is ready to exploit the various investment opportunities on our resource-rich islands," President Toroama added.
President Toroama and MD Rupert Bray participated in a symbolic ground-breaking ceremony where His Excellency said 'Graun yu mas kisim bek Steamships' and both gentlemen planted coconut trees to mark the historical occasion.
Steamships has evolved and consolidated since it was last active in Bougainville. From trade and hardware store and shipping into six businesses that span three diverse industries:
Property, Pacific Palms Property
Hospitality, Coral Sea Hotels & Enzos
Transport and Logistics, East West Transport, Consort Express Lines, Pacific Towing, and JV Port Services.
10 February 2022 ↓
Hiri Moale Festival 2021
Steamships reaffirmed its support for the Hiri Moale Festival, returning as lead Gold Sponsor with sponsorship valued at K100,000.
Managing Director, Mr Rupert Bray, announced the sponsorship at a cheque presentation to Motu Koita Assembly Chairman, Dadi Toka Jnr, at Ela Beach Hotel on Wednesday, January 26, 2021. The sponsorship goes towards cultural performers, the construction of the Coral Sea Hotels Cultural Performance Arena, and designated catering.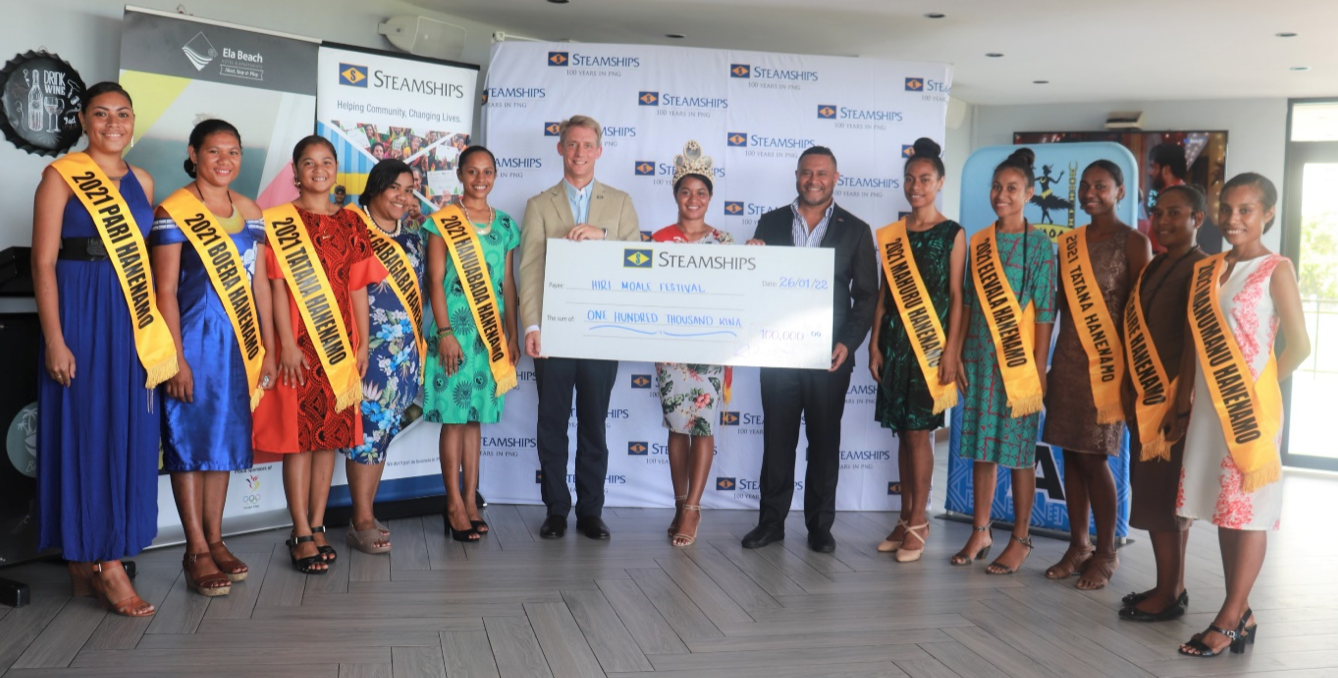 Figure 1 2021 Hiri Hanenamo Contestants, Reigning Hiri Queen Sera Vani, Steamships MD Rupert Bray, and MKA Chairman Dadi Toka Jnr
Serah Vani, the reigning Hiri Queen, and the 10 contesting Hanenamos were present, along with members of the Motu Koita Assembly and the Hiri Moale Festival Committee. They had the opportunity to introduce themselves and speak a little about where they are from and their motivations to participate in the Hiri Hanenamo Quest. This was part of their Speech Craft program, teaching the young ladies about public speaking.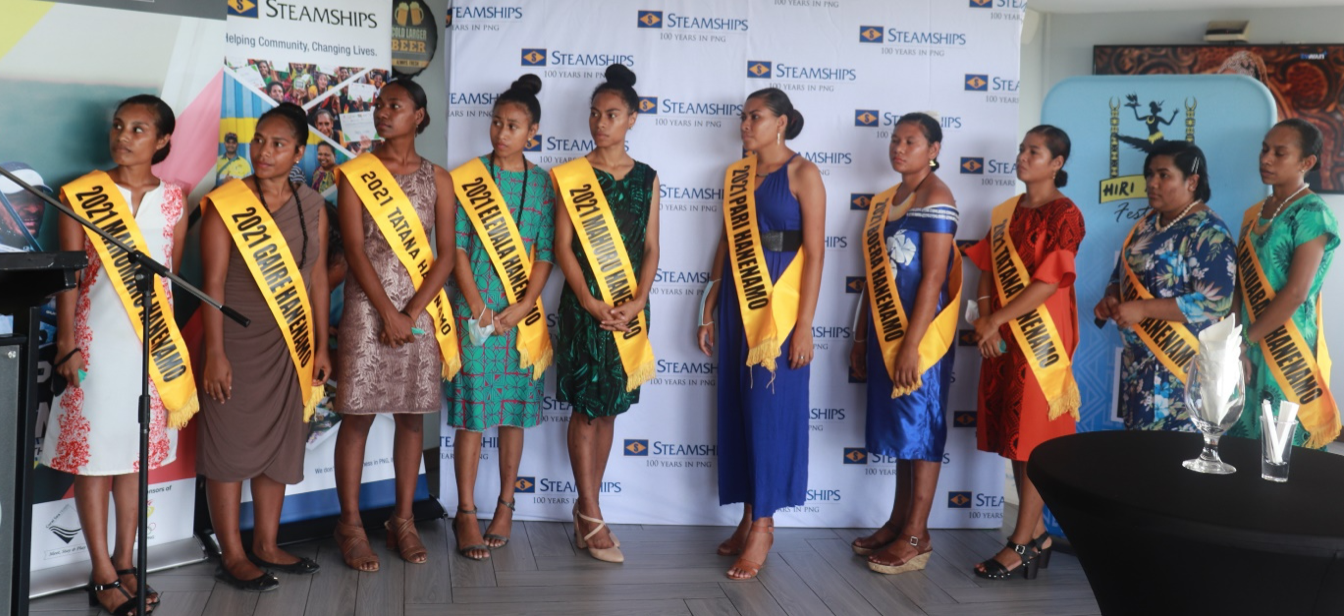 Figure 2 2021 Hanenamos: LR Manumanu – Nana Pake, Gaire - Asi Kamuta, Tatana - Kaiya Jones, Elevala - Guba Hitolo, Mahuru - Maggie Geita, Pari - Raila English, Boera - Madaha Kevau, Tatana - Pauline Okitai, Gabagaba - Noeleen Nouairi, Hanuabada - Andrea Taraka
It is a three-day festival that commences on Friday 11 Feb 2022, with a Sponsors Night to officially open the Festival. Saturday is dedicated to the Trukai Vanagi Races at Era Kone. This is a two-part program, with races in the first half of the program and the arrival of the lagatoi in the second half of the program. Sunday is devoted to cultural performances and the crowning of the 2021 Hiri Hanenamo.
Fellow corporate sponsors of the Festival include Exxon Mobil PNG, Digicel, Trukai, PNG Air, Amazing Port Moresby, House of Gemini, Moni Plus, Black Swan International, and Pacific Industries.
Hiri Moale Festival 2021 - Full Program
20 June 2021 ↓
STEAMSHIPS ENTERS LOGISTICS PARTNERSHIP WITH E-COMMERCE PLATFORM SHOPSMART
Steamships Trading Company has announced a new agreement with Emstret Space, a locally owned hub for SMEs that plays a vital role in influencing the growth and development of many SMEs around PNG. Under the agreement, Steamships will provide heavily subsidized transport and logistics services to Emstret through its subsidiaries East West Transport and Consort Express Lines.
SMEs within Emstret's Shopsmart online marketplace will have the opportunity to transport goods and equipment all over PNG through Steamships' trucking and shipping network, reaching a wider market. "E-Commerce is an exciting new initiative for SMEs in PNG, providing a much larger marketplace." says Alfred Weston, Business Development Manager at Steamships, "However, it also presents a much larger logistics challenge to move goods between sellers and buyers.
This is one area where Steamships' can offer support". Emstret Founder and Director, Vani Nades says, "The aim of Emstret Space is to create an inclusive ecosystem for entrepreneurs, allowing them to connect, collaborate and grow. Whilst the pandemic had many negative effects, it also challenged communities like ours to think outside the box. Shopsmart PNG is the future of e-commerce in Papua New Guinea and will ensure that SMEs continue to grow during these trying times" she added. "The future is promising because of this partnership with Steamships Trading Company, our vendors will be at ease knowing that their products will reach its destination through Steamships' extensive logistics network".
03 June 2021 ↓
Steamships supports Caritas technical School Nutrition Program
Steamships and Goodman Fielder have come on board to support Caritas Technical College's Nutrition Program.
The current pandemic and its engulfing effect have not spared schools in Papua New Guinea including Caritas Technical School.
One assessment and survey conducted by the National Department of Education, Save the Children and UNICEF have highlighted the adverse effect Covid has had on education and schools in the country.
According to Sr Mazarrello, the school's Director, the Nutrition Program was on the verge of closing because of covid. "The National School Health Policy of 2015" encourages good nutrition in schools. We are determined to provide quality education and good nutrition to enable the students to perform better in school. We are grateful of the support from steamships and Goodman Fielder".
Steamships and Goodman Fielder were invited to the school on Thursday 3rd June to announce the partnership in front of teachers and the students.
Steamships Corporate Affairs General Manager David Toua said that good nutrition throughout life played a significant role and promoted a healthy outcome for growth and development for young people in education.
"We congratulate Cartias Technical College and thank Steamships for this program and the opportunity to partner. In addition to the nutritional support, we are also providing work experience opportunities for five students to help prepare them for when they get out in the workforce after their studies. Assisting the students and the school communities during the pandemic is important," said Anell Ovia, Goodman Fielder's Human Resource Manager.
Sister Mazarello hopes that the Nutrition Program will assist parents as well as students in the school.
11 February 2021 ↓
Steamships accords the MD Excellence award to a graduate architect.
The 2020 Steamships Managing Director's Award for Excellence has been given to Vanessa Kagena, a Graduate Architect with Pacific Palms Property (PPP). Joining PPP in 2019, straight out of university, Vanessa has built up an impressive resume of achievements in a very short space of time. Vanessa oversaw the design process for the Harbourside shade, deck and pirate ship that helped transform the precinct and assisted with the refurbished new look for the Beachside food and beverage outlets at Ela Beach Hotel, creating a significant prospect for the city. More importantly Vanessa has taken a lead role in the exterior design of the rehabilitation of Burns House into @345 with her impressive images and perspectives formally depicted in a Steamships/PPP advertisement in the newspaper in November. Board and senior management presentations, both internal and external have utilized here work-designs for development projects as well. Vanessa's work has meant that Steamships has avoided expensive external architectural fees and proven that not only do we have strong design capabilities in the country, but also, we have an extremely capable female Papua New Guinean with a huge amount of potential working for Steamships. Vanessa's design skills and hardworking ethic have made her stand out as a star who performs excellently and has a huge amount of potential. She has seamlessly stepped up to manage the ongoing development projects while some key project managers are out of country, further highlighting that she has many strings to her bow. This prestigious employee award serves to recognize employees performing exceptionally beyond their duties and responsibilities to improve the results and reputation of our business and workforce. Vanessa is the second recipient of the award in Steamships; the first being Ms. Alma-Jean Urakowi in 2019 Joint Venture Port Services.
16 June 2020 ↓
Mortlock Island receives support from Steamships Community Grants Programme
Mortlock, an atoll island located 250 km north east of Kieta and inhabited by more than 600 people, has received funding from the Steamships Community Grants Programme.
Engulfed with issues of rising sea level and relocation, the islanders are not sitting around waiting to be noticed.
Supported by the Steamships Community Grants Programme, Mortlock Islanders will soon be constructing their aid post after 15 years.
The Mortlock Takuu Island Climate Change Association (MTICCA) President, David Marena was excited to hear that their project application was successful.
The Aid Post which will be built at a cost of K110, 000 will service the islands more than 600 population.
According to David Marena, materials were purchased in Rabaul and then shipped to Kuta wharf on Buka awaiting their final destination to Mortlock Island. Much of the work was delayed due to the current pandemic experienced by the world and completion is expected before the end of the year.

"I'm grateful to the Steamships Community Grants Programme for providing an opportunity for us to improve our health services on the island. After almost 15 years we are on our way to building our aid post," remarked David.
The Steamships Community Grants Programme considers applications from Papua New Guinean registered charities to fund community based initiatives focusing on health, education and social welfare.
The programme has impacted communities in many ways by improving access to early learning, access to clean water and sanitation, providing teaching materials and training, creating training for health based community workers as well as providing facilities.

According to David Marena, "we have had various support from aid agencies in the past to build community infrastructures such as classrooms, teacher's accommodation and a library. The island at most times remains completely cut off from Bougainville, the country and the rest of the world due to poor communication infrastructures and lack of efficient sea transport available."

A properly functioning aid post building is very crucial and important to service the community. The island has been without an aid post for more than a decade, since it was hit by king tides in 2010.
"One of the primary purposes of the Community Grants Programme is to identify projects and initiatives that will bring positive change and benefit to Papua New Guineans. It's great that Steamships has this opportunity to support MTICCA NGO to deliver a service that aims at improving health services on a remote island community.", remarked David Toua, Steamships General Manager for Corporate Affairs.
12 March 2020 ↓
Steamships records an increase in sales revenue in 2019
2019 was a difficult year for PNG after the euphoria of hosting the APEC summit in late in 2018. The economy remained weak in the absence of any progress on the much-needed investment in the resource sector and the uncertainty caused by the change of Government in May 2019 and the consequent significant readjustment of national debt further dampened sentiment. The National Budget presented in November 2019 projects 2020 will record the largest expenditure and budget deficit in PNG's history. The ongoing shortage of foreign currency in PNG continues to suppress economic activity.
Continued budget support from multilateral agencies will be essential and likely to entail economic reforms that will impair economic activity in the short term. 2019 was a challenging year for the private sector as a whole and Steamships diverse business activities being closely integrated to the domestic economy were not immune to the negative impacts of the slowdown. Steamships' sales revenue increased 4.3% to K585.1 million against last year's K560.8 million, on a continuing basis with improved revenue for Consort offsetting declines for Pacific Palms Property and Coral Sea Hotels.
Depreciation in 2019 was K82.3 million against K83 million in 2018, and interest on borrowings (excluding capitalised interest) was K9.8 million against K10.3 million in 2018. Capital expenditure for the year was K93 million (with capitalised interest of K1.0 million) against K56.1 million (with capitalised interest of K1.7 million) in 2018.
The group's net operating cash flow generation declined 9.7% to K105.4 million against K116.7 million in 2018. The cash balance at year end is K100.8m. A final dividend of 55 toea per share has been proposed and will be paid following approval at the company's annual general meeting on the 17th of June 2020, subject to Steamships' ability to secure foreign exchange for non PNG shareholders. This brings the total dividend for the year to 80 toea per share (2018 = 165 toea per share). The dividend is unfranked and there is no conduit foreign income.
Significant items
The gain on sale of properties is principally attributable to the sale of a plot of land in Port Moresby by the Company to an associated company, Harbourside Developments Ltd, being the site for the new mixed-use development Harbourside South.

Logistics
Consort Express Lines embarked on a significant turnaround programme in 2019 in the face of a highly competitive and depressed coastal liner and projects shipping market. This has started to show results with improved fleet and schedule reliability and customer service. New systems and management have been introduced and Consort's results are improving. While investment in the resource sector remains weak, the focus is on the liner service with opportunities for projects and charter work, hopefully forthcoming later in 2020.
The Joint Venture Port Services businesses had a steady performance in 2019, recovering from the loss of the International Terminal Operator concessions in Port Moresby and Lae in 2018. JVPS now manages stevedoring and handling in 10 ports around PNG as well as an equipment hire business, providing a vital, safe and efficient operation for these communities, whilst providing an economic return to the local community shareholders.
East West Transport continues to grow its fleet and range of services in a steady profitable manner, winning some key new business in 2019 and maintaining a strong customer and fleet reliability focus. Pacific Towing experienced a modest year in its principal harbour towage work across ports in PNG from its main base at the Motukea port in Port Moresby. External towage work provided steady work in 2019 with tugs deployed throughout the region. Diving and life raft activity were steady. The company was engaged in a number of successful salvage and wreck removal operations in the region in 2019 and has established a strong reputation in this area.
Property & Hotels
Pacific Palms Property experienced a reduction in rental rates in 2019 in the face of increased competition and was unable to achieve the occupancy levels of the prior year and profit fell as a result. In response to growing competition, an upgrade programme was undertaken in Port Moresby and Lae to maintain its quality leadership position. Construction of the Harbourside second phase, Harbourside South, with residential, commercial and retail space, commenced mid-year and is on track for mid-2022 opening.
Coral Sea Hotels owns and manages nine properties in PNG and suffered from the increased capacity in Port Moresby coupled with the reduction in international arrivals. Nevertheless, CSH is committed to remain competitive through a sustained focus on investment in its quality service offering, food and beverage as well as the training and development of its staff.

Commercial
Colgate-Palmolive, (PNG) Limited a PNG incorporated joint venture, saw volume and sales revenue growth across all three categories of Oral Care, Personal Care and Home Care. Overall margin for the business was slightly lower than budget. Overheads were prudently managed to finish below prior year and in line with budget.

Trading Outlook
Whether the key resource projects proceed or not, 2020 is expected to be another challenging year for the PNG economy. We remain hopeful that resource projects will progress to binding agreements and subsequent significant investment that would be beneficial to the citizens of PNG and all the other stakeholders in the projects.
We remain firmly focused on the future and our commitment to the development of the country and people of PNG and the exciting opportunities that lie ahead.

31 January 2020 ↓
Highlander Hotel opens its new conference facility
Steamships division, The Coral Seas Hotels Group hosted the business community of Mount Hagen at a function on Thursday 30th January, to announce the opening of the city's latest business venue, the brand new Highlander Hotel Conference Centre.
Able to accommodate up to 300 guests, the facility provides state of the art audio visual, call conferencing and technological capability, all complemented by superior catering and hospitality services. The modern, temperature controlled rooms and amenities are equipped to provide the ideal environment to discuss, transact, and share business ideas.
In his welcoming remarks, Rupert Bray, the Chief Operating Officer of Steamships Limited emphasized the company's ongoing commitment to Mount Hagen, through its investment in the Highlander Hotel and other commercial ventures including Hagen Central.
"Mount Hagen is a very important PNG destination, for both economic and cultural reasons" remarked Mr. Bray. "It is the gateway to the food basket of PNG, the Highlands region, and a thriving economic hub that will facilitate and foster growth in the Agricultural, SME and tourism sectors. We're delighted to bring a facility of this size to Mount Hagen, one that the whole community can share, and one that is capable of hosting both regional and national meetings and forums".
The General Manager of the Highlander Hotel, Leo Berka, also welcomed the new addition to his hotel. "The hotel has recently undergone a facelift, with new improved rooms, and the new conference facility adds another dimension to what we can offer to visitors to Mount Hagen. The staff and I are looking forward to welcoming guests and providing them with a first class hotel experience".
02 December 2019 ↓
Steamships celebrates its Family Fun Day in Lae
The Steamships Family Fun Day in Lae brought together the whole STC Lae community on Saturday 30 November at the Scrum Oval. The fun filled day had over 1,200 people including employees and their families from Pacific Palms Property, Coral Sea Hotels, JV Ports, Consort, East West Transport and Swire. The annual event had something for everyone, including bouncy castles, fun treats which included ice cream and candy floss, music, games and a BBQ.

On hand to help out on the day were Steamships Managing Director Michael Scantlebury and Chief Operating Officer Rupert Bray, who received good support from the General Managers of Consort and East West, along with senior staff members.
"We consider the Lae family fun day program to be an important event on our calendar. It's just reward for our hard working employees on this side of the country, and provides a great opportunity for fun interaction between management, staff, and their families", remarked Michael Scantlebury.
The planning committee had been working on the event and programme for the past two months according to Alythea Siraba from STC Corporate, who thanked the 10 volunteers from the Lae based companies for their assistance and contribution to a very enjoyable day.
The event was coordinated by The Right Connections, with supporting contributions from Colgate-Palmolive PNG Ltd, Ramu Agri, Theodist, Paradise Foods, Coca Cola Amital, and Guard Dog Security.
13 November 2019 ↓
Highlander Hotel is gearing up for the opening of the new conference facility.
Highlander Hotel is gearing up for the opening of the new conference facility.
At a cocktail party on the eve of the Steamships Board meeting in Mt Hagen the Chairman took the opportunity to
introduce the soon to be opened Highlander Hotel conference facility.
"We are excited to continue our plans into 2020 with the opening of this refreshed conference facility featuring
upscale amenities, modern designs and a dedicated staff," remarked Geoff Cundle.
On hand to witness the soft opening was Sir Peter Ipatas, Steamships Board of Directors, Coral Sea Hotels
Management, Mt. Hagen business community as well as various community leaders.
The new facility offers meeting rooms for up to 300 guests with flexible solutions for various meeting and banquet
requirements. The facility will offer AV capabilities with LCD projectors and screens combined with superior high
quality image clarity. Functional seminars, birthdays, corporate dinners and wedding receptions can take place at the
conference rooms.
The conference centre is expected to open in phases starting 12 November 2019. "We are looking forward to
continuing our partnership with our guests and opening the doors to the new facility. Our excellent location is a
gateway to all businesses in the region and Highlander Hotel offers guests a variety of services including outdoor
pool, relaxing guest rooms, restaurants and meeting rooms", said Peter Laigaard Jensen, Group General Manager of
Coral Sea Hotels.
The new facility exemplifies Steamships commitment to investment and partnership in the region and Coral Sea Hotels
are equally committed to building a meaningful and memorable experience for guests who chose to stay.
Page 1 of 3 pages 1 2 3 >
Steamships Trading Company Limited
@345 Building, Levels 1-2, Stanley Esplanade, Section 20, Allotments 3,4 and 5, Port Moresby, National Capital District, Papua New Guinea
P.O. Box 1
Port Moresby
National Capital District
Papua New Guinea
Tel

(675) 3137400 or 79987000