Our Commitment
Sustainability at Steamships is guided by five focus areas, together referred to at the THRIVE strategy: these are Climate, Waste, Water, People, and Community. By prioritising the environmental sustainability of our operations, our duty of care to our staff , and our role as a corporate citizen of Papua New Guinea, we aim to remain a major contributor to the economic development of PNG and a committed steward of the unique environment and culture of our nation.
Improving sustainability is a process and requires systematic strategy. It starts with robust monitoring and culminates in action. We continue to develop and strengthen our internal processes and embed sustainability within our standard business practices. Our Sustainability Policy, endorsed by the Board of Directors and signed by the Company's Chairman and Managing Director, outlines our approach to sustainable development and is supported by an evolving suite of internal policies and implementation action plans.
Building on our long history, Steamships aims to lead sustainable progress in PNG for the next generation of stakeholders. We remain steadfast in our commitment to supporting the people we employ, contributing to the development of the communities in which we operate, and reducing the impacts we have on PNG's unique environment. We do so because we understand that our long-term business goals can only be achieved if we embed the principles of sustainable development in our operations.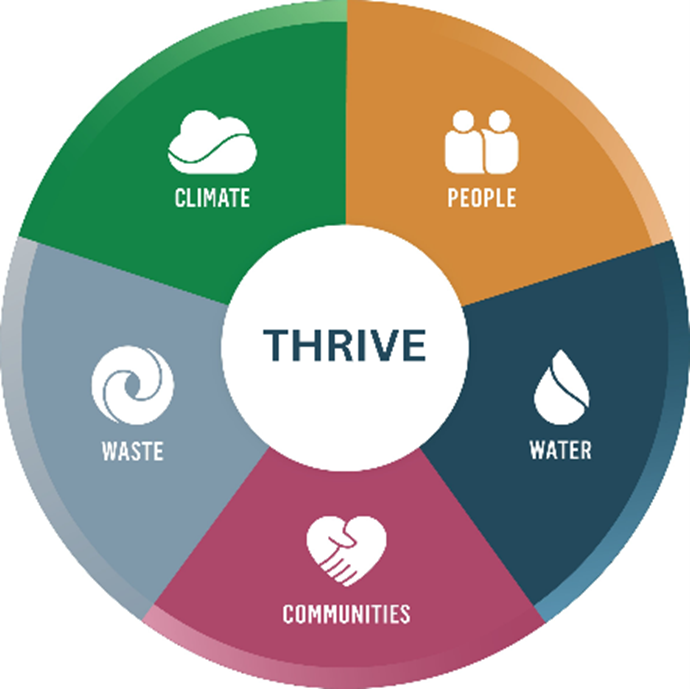 Under the five THRIVE pillars, we aim to:
Reduce our carbon footprint and develop a pathway to net-zero emissions by 2050. Take adequate steps to build our resilience to climate change.
Reduce the volume of waste generated in our operations, divert waste from landfill, and identify opportunities for circular waste management.
Use water responsibly and sustainably and protect our watersheds. Be a good steward of the natural resources under our influence.
Safeguard the health and safety of our employees, causing zero harm. Provide a fair, safe, and equitable workplace. Empower women and encourage their inclusion at all levels of the workforce.
Bring value to the communities in which we operate and respect their culture and heritage.